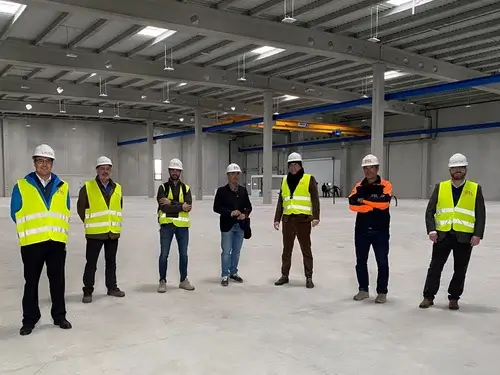 Construction of the LAUDA Group's new production facility in Terrassa, Spain, is progressing. The temperature control specialist is building a state-of-the-art production facility in the immediate vicinity of Barcelona for the Spanish company LAUDA Ultracool S.L., which was acquired ten years ago for the development and production of circulation chillers. After the laying of the foundation stone in January 2021, LAUDA expects the building to be completed and LAUDA Ultracool S.L. and its sales subsidiary LAUDA Ibérica Soluciones Técnicas S.L. to move in during the first quarter of 2022. LAUDA is investing around 7 million euros in the new building in Spain.
The new production facility means that LAUDA will double its production and storage area for industrial circulation chillers, which are used e.g. for cooling in the field of mechanical and system engineering. LAUDA is therefore continuing to drive forward the continuously positive development of its Spanish subsidiary and is meeting the growing global demand for energy-efficient temperature control solutions. Approximately 4,000 m² of new production space and more than 850 m² of office space will be created on the 9,000 m² site. "With the new building, LAUDA Ultracool is consistently gearing up for growth," explains Dr. Marc Stricker, COO at LAUDA and responsible for Development and Production. "We are not only increasing the production capacities of our Spanish subsidiary but have also deliberately created new office space to further expand the operational and technical capacities of LAUDA Ultracool," continues Dr. Stricker.
Sustainability and energy efficiency were important factors in the construction of the new complex. For example, concrete slabs with enhanced thermal insulation were used to minimize energy losses. Photovoltaic systems with a peak output of 310 kWp will be installed on the roof to generate electricity for the company's internal consumption. As a result, LAUDA Ultracool will cover 65 percent of its internal electricity consumption and save emissions amounting to 104 tons of CO₂ per year.
Representatives of the parent company's management team were able to see the progress for themselves during a site visit. "We are delighted that the new building is progressing well despite the difficult pandemic situation and the global resource bottlenecks," said President and CEO, Dr. Gunther Wobser. "The expansion of the site in Spain is of enormous importance for the strategic growth of the LAUDA Group. Not only are we meeting the demand for industrial circulation chillers by increasing production capacity, but overall we are strengthening the future viability of industrial temperature control technology."