LAUDA.LIVE:
THE CLOUD DRIVEN DIGITAL SOLUTION
Maximize Uptime, Reliability and Performance
LAUDA.LIVE is the beginning of a series of new digital products from LAUDA. All LAUDA temperature control and laboratory solutions become fully connected and intelligent IoT devices. LAUDA.LIVE offers comprehensive fleet management functionality, smart analytics, and monitoring tools, as well as sophisticated control and remote troubleshooting capabilities.
Global monitoring and control of your operating equipment—from anywhere
Gain deep insights into the performance of your LAUDA temperature control equipment with powerful data storage and visualization tools
Stay on top of potential issues with alarm notifications via SMS, email, or cloud, ensuring that you never miss an important update or critical event.
Easily manage maintenance requirements, warranty status, location, tickets, and device status, streamlining asset management
Receive top-notch support whenever you need it with 24-hour remote assistance Monday through Friday, giving you peace of mind and ensuring that you always have access to the help you need.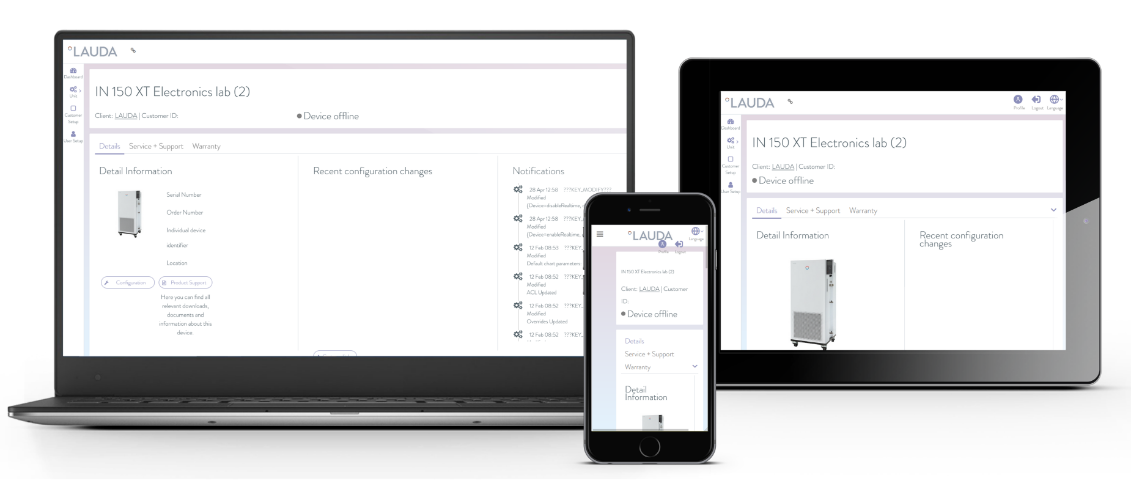 Monitor Your Equipment from Anywhere
LAUDA.LIVE allows you to professionally manage your asset base. You can keep track of maintenance requirements, warranty state, location, and the status of the device. This creates a completely new level of transparency and eases the lifetime management of any asset.
The powerful monitoring and analysis functions of LAUDA.LIVE let you get the most out of your temperature control solutions. Maximizing performance, optimizing your application, and global access to your asset data helps you to monitor your production process, from home or while traveling. LAUDA.LIVE enables technicians to monitor conditions and diagnose a problem without having to be on site. A service hotline is available 24 hours a day, 5 days a week—minimizing costs and maximizing efficiency!
Make Informed Decisions with LAUDA.LIVE's Advanced Data Analytics
The intuitive graphical visualization allows analysis of historical and current process data, such as temperature curves, pump and machine data over a freely selectable period of time. Device data can be exported for external documentation, analysis, and testing.
Stay Ahead of Maintenance Tasks with LAUDA.LIVE's Smart Notifications
LAUDA.LIVE allows you to document the maintenance schedule for each device in your fleet and receive notifications of upcoming service and maintenance tasks. You will also be notified when the warranty expires and have the option to extend the warranty online via LAUDA.LIVE.
Peace of Mind Included: LAUDA.LIVE's Robust Security Features
The digital platform is cloud-based with access in the web browser and is therefore compatible with every common operating system. The display is optimized for mobile devices and can be output on a desktop/notebook PC, as well as a tablet or smartphone. LAUDA.LIVE was also designed with a focus on security. Users can choose either a local or a mobile network connection between the constant temperature equipment and LAUDA.LIVE. State-of-the-art PKI encryption, two-factor authentication and access rights management protect the data transmitted to LAUDA.LIVE according to Microsoft Azure IOT recommendations. PKI stands for Public Key Infrastructure, which uniquely identifies a device that is communicating with LAUDA.LIVE.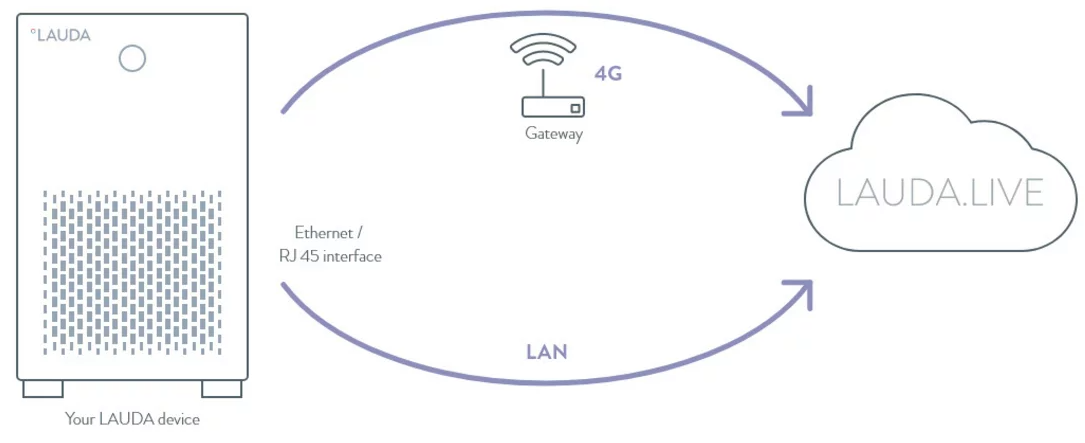 If you're interested in getting started with LAUDA.LIVE or learning more, complete the form below to submit your inquiry and a LAUDA-Brinkmann representative will be in touch to discuss your needs.