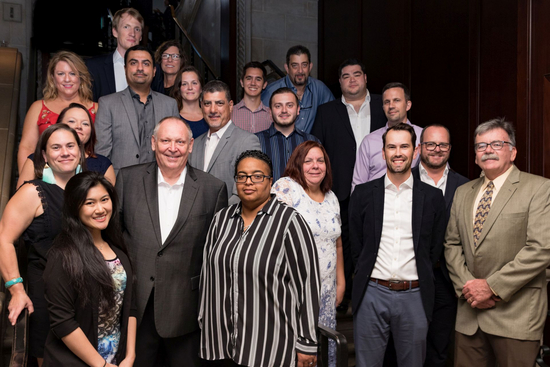 World market leader for precise temperature control celebrates ten-year anniversary in North America
Lauda-Königshofen, September 17, 2018 – For LAUDA, the world's leading manufacturer of temperature control units and systems, there are many reasons to celebrate this September. The foreign subsidiary LAUDA-Brinkmann founded in 2008 celebrates its tenth anniversary. The celebrations in Philadelphia, Pennsylvania, included high-ranking representatives of the headquarters, including the President and CEO, Dr. Gunther Wobser.
The success story of the LAUDA company in the United States began ten years ago in the town of Delran, New Jersey, just a few miles from Philadelphia. On September 1, 2008, after only a few months of preparation, the world market leader for precise temperature control announced the opening of the wholly-owned foreign subsidiary, LAUDA-Brinkmann LP. The company originated from Brinkmann Instruments. The distributor of high-quality laboratory equipment had already been acting as a loyal partner of LAUDA in the USA since 1965, but surprisingly discontinued the business. Starting with twelve employees, LAUDA-Brinkmann has overseen the entire North American market for temperature control equipment and systems for industries such as pharmaceutical, chemical, automotive or aerospace for more than ten years. LAUDA-Brinkmann now employs 17 specialists, including four service technicians. The partnership with a North American service provider and its more than 1,000 field service technicians for the USA and Canada guarantees the. comprehensive and extensive support of LAUDA customers.
"The first ten years of LAUDA Brinkmann has passed in the blink of an eye", says Michael Faulkner, General Manager & CEO of LAUDA-Brinkmann who has been on board since the launch in 2008. "During that time, we've focused on diversification, through our product offering, the markets we sell into and the overall skill sets possessed within the LAUDA Brinkmann team." Michael Faulkner looks to the future with great optimism. The company will continue to grow worldwide together with the LAUDA Group, he is certain.
The portfolio of LAUDA-Brinkmann has been continuously expanded over the years and now covers the entire spectrum of temperature control, from water baths to the in the US well-accepted process thermostats of the Integral line and the very successful Ultracool circulation chillers. Since this year, the distribution of the thermoelectric thermostats from the US subsidiary LAUDA-Noah has been taken over. In 2015, LAUDA-Brinkmann expanded further and opened another location for the West Coast in Morgan Hill, California.
"For ten years, LAUDA-Brinkmann has strengthened our presence in the USA. What emerged in an incredibly short time in 2008 as a result of the sudden business closure of Brinkmann Instruments has become our most important distribution company over the years" says Dr. Gunther Wobser, who is also President of LAUDA Brinkmann. "We are proud of what our American colleagues are doing every day and look forward to the future together."