Thanks to their excellent insulating properties, LAUDA Versafreeze deep-freezers guarantee safe storage of vaccines, organic substances, or valuable samples in a temperature range of up to -85°C.
LAUDA Versafreeze upright freezers and chest freezers put quality and safe storage at the forefront through high-quality components, energy-efficient and sustainable refrigeration technology. They can also be customized and fitted on request to ensure maximum safety and performance.
Low energy consumption
Excellent temperature stability, short pull-down and maximum thawing times for high sample reliability
High-quality components by renowned brand manufacturers
Excellent temperature homogeneity and temperature stability
Sustainable cooling technology thanks to efficient and natural refrigerants
Modern, intuitive and safe operation and monitoring and control independently of the location and appliance via LAUDA Cloud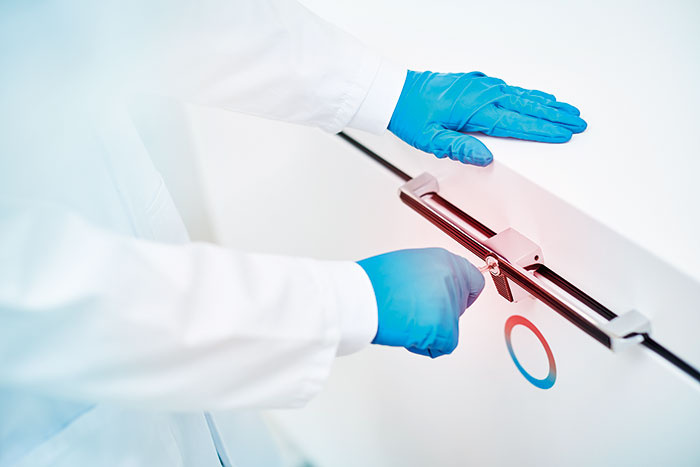 Research and development laboratories
Cryopreservation, e. g. of viruses
Quality assurance
Material testing
Shrinkage
Cryopreservation
Long-term storage of stem cell cultures
Low temperature storage of vaccines
Long term shortage of reference samples
Material testing
Environmental simulation
Download a PDF of our Versafreez brochure: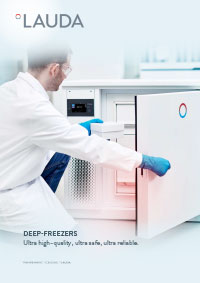 LAUDA Versafreeze Brochure (1.9 MB)

Working temperature min.
-85 °C

Working temperature max.
-50 °C
High-quality components
Whether vacuum panels from va-Q-tec, compressors from Embraco or controllers from Störk – LAUDA Versafreeze is built with quality and reliability in mind.
Secure storage
LAUDA Versafreeze provides the greatest possible security for your samples, even in a power cut, thanks to long warm-up times. The integrated accumulator maintains the actual temperature display and alarm functions for a period of up to 60 hours.
Excellent insulation properties
LAUDA Versafreeze represents high-performance insulation technology. Vacuum panels, impermeable polyurethane foam insulation and thermal film enable efficient energy consumption, high temperature stability, short pull-down times and maximum warm-up times.
Excellent temperature distribution
LAUDA Versafreeze offers outstanding temperature homogeneity and consistency and guarantees the secure storage of sensitive products throughout the entire freezer space.
State-of-the-art controls – IOT-ready
The modern, capacitive touch display offers intuitive navigation with various configuration options, a data logger, password-protected user access and secure monitoring via the LAUDA Cloud.
Sustainable refrigeration technology
LAUDA Versafreeze comes with the advantage of efficient and sustainable refrigeration technology. As the world's first manufacturer of deep-freezers to use natural refrigerants, LAUDA-GFL has been setting standards in the storage of sensitive pharmaceutical products since 2008.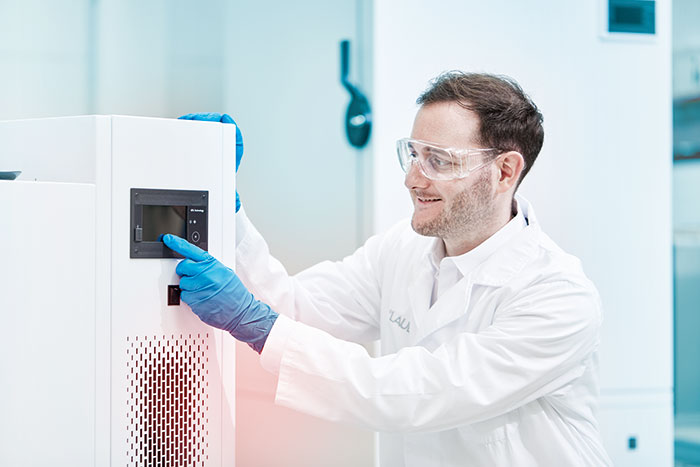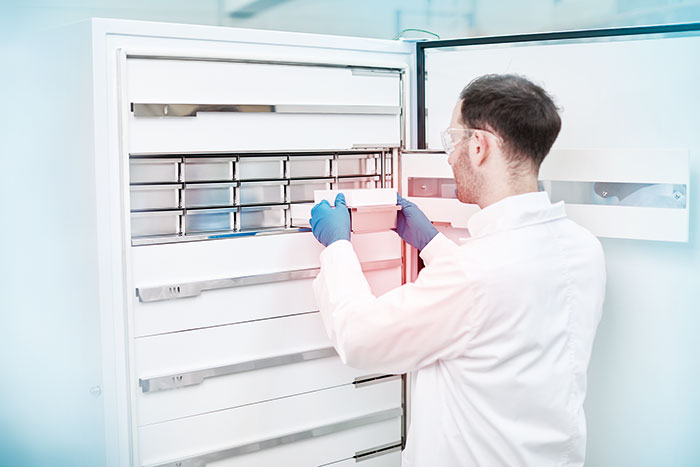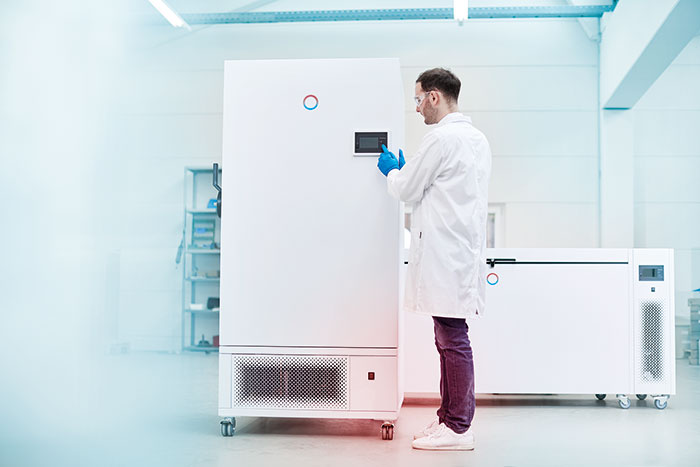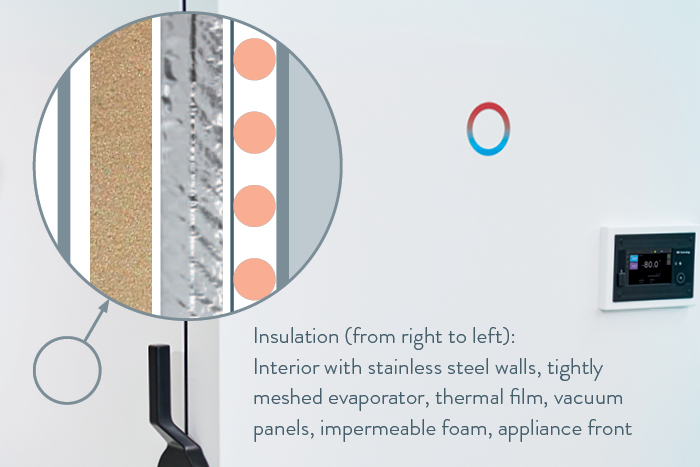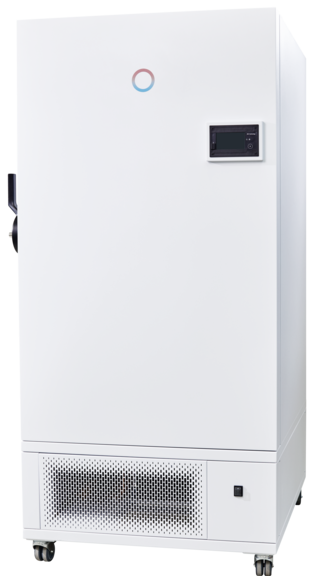 VERSAFREEZE UPRIGHT FREEZERS
For safe storage of pharmaceuticals and valuable samples
LAUDA Versafreeze freezers use a high-quality combination of vacuum panels, thermofoil and polyurethane insulation to protect against heating. This enables economical energy consumption, excellent temperature homogeneity and consistency, and short pull-down and maximum warm-up times.
VERSAFREEZE CHEST FREEZERS
Optimized for the extreme requirements of ultra-low temperature storage
LAUDA Versafreeze chest freezers offer state-of-the-art refrigeration technology with a temperature range of 0 to -85 °C, excellent insulation properties and the greatest possible protection thanks to password-protected access rights and secure monitoring via the LAUDA Cloud. LAUDA Versafreeze freezers are the safe storage place for your valuable samples and pharmaceuticals.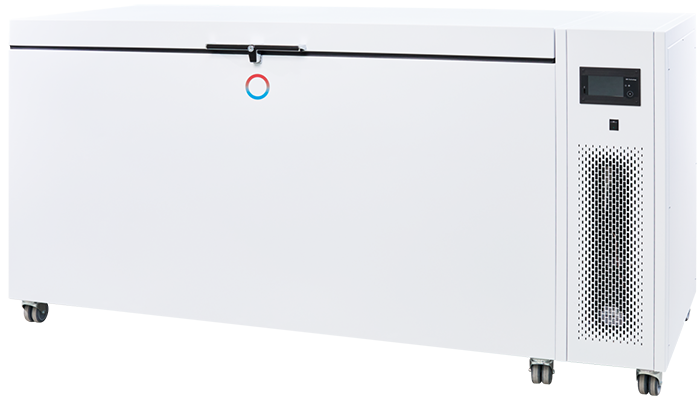 Versafreeze Chest Freezers
| | | | | | | |
| --- | --- | --- | --- | --- | --- | --- |
| Technical features | VF 20040 C | VF 55040 C | VF 75040 C | VF 20085 C | VF 55085 C | VF 75085 C |
| Select to compare: | | | | | | |
| Working temperature min. °C | -40 | -40 | -40 | -86 | -86 | -86 |
| | | | | | | |
Versafreeze Upright Freezers
| | | | | | | |
| --- | --- | --- | --- | --- | --- | --- |
| Technical features | VF 15040 | VF 60040 | VF 70040 | VF 15085 | VF 60085 | VF 70085 |
| Select to compare: | | | | | | |
| Working temperature min. °C | -40 | -40 | -40 | -86 | -86 | -86 |
| | | | | | | |
CO2 or LN2 safety cooling
A power failure or device defect can result in thawing of valuable material sample and vaccines. Safety cooling protects against uncontrolled rises in temperature, by keeping the temperature in the freezer space constant at a freely definable value (0 to -70 ºC) using a controlled supply of LN2 or CO2. LAUDA Versafreeze deep-freezers are optionally available with safety cooling systems for refrigerants CO2 or LN2. LN2 is used if the storage materials cannot be allowed to come into contact with CO2. LAUDA Versafreeze safety cooling systems feature an integrated accumulator, which supplies the safety cooling system and alarm module with power.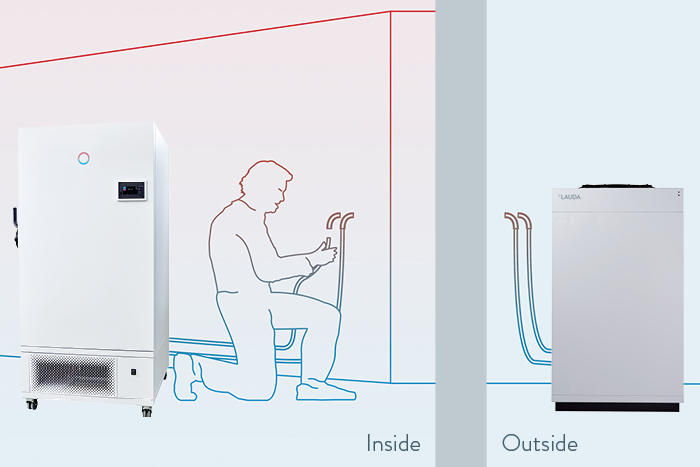 For operation on central water cooling and heat exchange systems, LAUDA also supplies deep-freezers in a water-cooled version. Instead of an air-cooled condenser, a heat exchanger is installed. It significantly reduces the heat emitted by the appliance into the ambient air, while expanding the permissible ambient temperature range. The water supply is controlled via the deep freezer.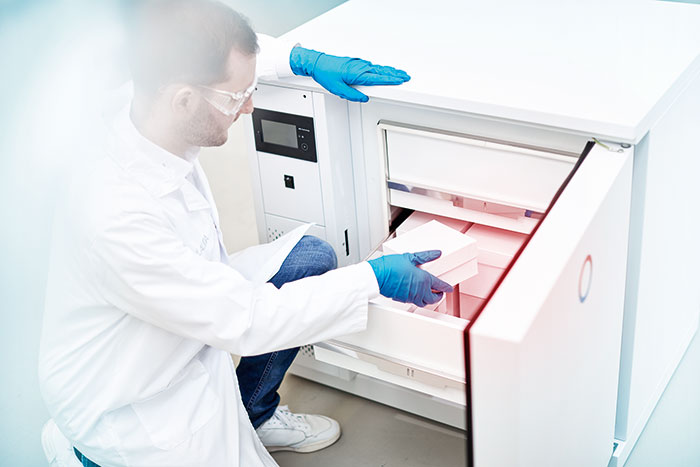 Set of drawers for upright freezers
Instead of compartments with doors, the freezer space of the deep-freezer can be equipped with a set of drawers. These drawers are made of stainless steel and feature front panels made of 10-mm thick polystyrene insulating plates. Ball bearings and guide rails guarantee effortless, tilt-proof opening and closing.
The factory certificate documents the spatial and temporal temperature stability of the specific LAUDA Versafreeze deep-freezer in detail. All the required measuring data is measured at the factory using a calibrated measuring device and archived long-term. This appliance-specific certificate can be used by customers to verify the quality of the deep freezer and storage conditions if they have to comply with the special approval guidelines of the American FDA.
Optimal utilization of the usable volume can be achieved using racks for boxes, microtiter plates and DeepWell plates. The racks, made of stainless steel, are weight-saving and ergonomic. They ensure secure and well-organized storage of all sample materials. The capacities of the sample storage boxes are variable and can be adapted to different requirements. Three box heights and four grid dividers ensure optimal adaptation to different storage vessels. The boxes are made of cardboard with hydrophobic coating.
The battery-operated logger is used for external monitoring and recording of the interior temperature. The magnetically fixable data logger has a PT1000 temperature probe with a three-meter cable, which is fed into the freezer space via the device's integrated feedthrough. The data logger has an adjustable limit value monitor with an acoustic alarm and offers a memory for up to 60,000 measured values with recording intervals from 1 sec to 24h (adjustable). The data logger is configured, and the data is read out directly on a PC using the USB cable supplied. Optionally, the data logger can be calibrated at a customer-specific temperature, and the calibration is verified with a certificate.