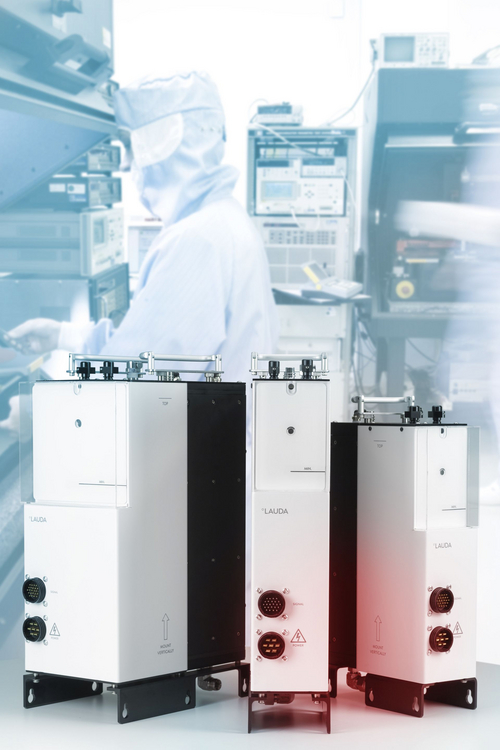 Thermoelectric process thermostats, which are used in the temperature control of etching processes in the semiconductor industry, have been a permanent feature of LAUDA's comprehensive portfolio since its acquisition by Noah Precision (now LAUDA-Noah) in 2014. Now the global market leader has fully revised and expanded the former POU product line with the new "Semistat" series.
The new LAUDA Semistat product line comprises three models: LAUDA's Semistat S 1200 is an affordable entry-level device that offers an even smaller footprint than its predecessor – with the same cooling output of 1.2 kW at 20°C. Meanwhile, the newly developed Semistat S 2400 retains the mechanical and hydraulic structure of the product line. The process thermostat also incorporates the latest innovations from the thermoelectrics sector, such as the latest generation of high-performance Peltier elements, which guarantees a higher power density and greater reliability. With the Semistat 4400, LAUDA has brought a whole new performance class with 4.4 kW cooling output to market. This process thermostat is specially designed for applications using 300 mm wafers with a high cooling output requirement at low temperatures.
Thermoelectric process thermostats for the semiconductor industry from -20 to 90 °C
Semistat process thermostats have been optimized for precision temperature control in plasma etching applications in the semiconductor industry. Defined areas are removed from the surface of the wafers during the etching process. A dynamic temperature controller keeps the wafer chucks located inside the plasma etching chamber at a constant temperature, to prevent temperature drift. The constant temperature is crucial in maintaining a stable etching profile and producing a high-quality surface. Peltier technology realizes the two main advantages of Semistat thermostats: energy and space savings combined with maximum long-term operational stability.
The new process thermostats are extremely energy-efficient because they only control the temperature and consume energy when there is a need to regulate the temperature inside the etching chamber. Since the Peltier element is the only component used for heating and cooling, it is possible to minimize the space requirements of the thermostat. The compact design and optional underfloor installation ensure that minimal space is occupied in the cost-intensive cleanroom. A small internal fluid volume and short hose connections from the device to the application mean that less energy is required to control the fluid temperature. The low volume of the temperature control fluid, in particular, allows rapid temperature changes. Semistat temperature control systems use up to 90 percent less energy than compressor-based systems.
Like its established predecessor, the Semitat product line has a working temperature range of -20 to 90°C and offers a high temperature stability of ±0.1 K. With cooling outputs from 1.2 to 4.4 kW, the water-cooled devices can be used in combination with a large variety of chamber and platform models.
The most important functions of LAUDA Semistat process thermostats
Compressor and refrigerant-free system with low energy consumption
Smallest footprint in the industry
Extremely low volume of heat transfer fluid
Use of perfluorinated fluids
Improved accessibility and minimal cleanroom use
No filters or DI components required
High reliability and low operating costs
Locally exchangeable modules for easy troubleshooting
Dynamic, stable temperature control at the point of use
Temperature drift prevention for stable etching profiles
Improved wafer-to-wafer stability