LAUDA LOOP
Thermo-electric
circulation
thermostats
Discover the new dimension of temperature control thermostating: LAUDA LOOP
LAUDA has been a global leader in the temperature control thermostating using liquids for decades. Our temperature control circulators are used in research, applications technology and production. We are now rounding off our impressive product portfolio with our latest development: the LAUDA LOOP.
Over a two-year period of intensive research and development, we at LAUDA, have reimagined Peltier technology. Based on this proven technology, we developed the LAUDA LOOP, a new type of thermo-electric circulation thermostat without any rivals, and made it ready for market launch and series production. The positive response from industry clients confirms that our vision of location-independent, space-saving and environmentally-friendly temperature control meets the increasing demands of modern working processes for flexibility, independence and versatility. The LAUDA LOOP brings the future into your business right now, starting a new generation of external temperature control thermostating. Easy to handle, compact and light – the LAUDA LOOP is available in two versions. It allows for even greater independence and flexibility in your work. The LAUDA LOOP – our elegant all-rounder in a smart design for all kinds of applications. Discover the new dimension of temperature control thermostating.
Small size, low weight
Refrigerant-free temperature control thermostating with Peltier technology
Power-regulated ventilator fan
Exceptionally energy-efficient in partial-load operation
3-button controls with OLED display
Heating and cooling with the same components
Voltage: 100 – 240 V, 50/60 Hz
RS 232-interface as standard
Download a PDF of our LAUDA LOOP brochure: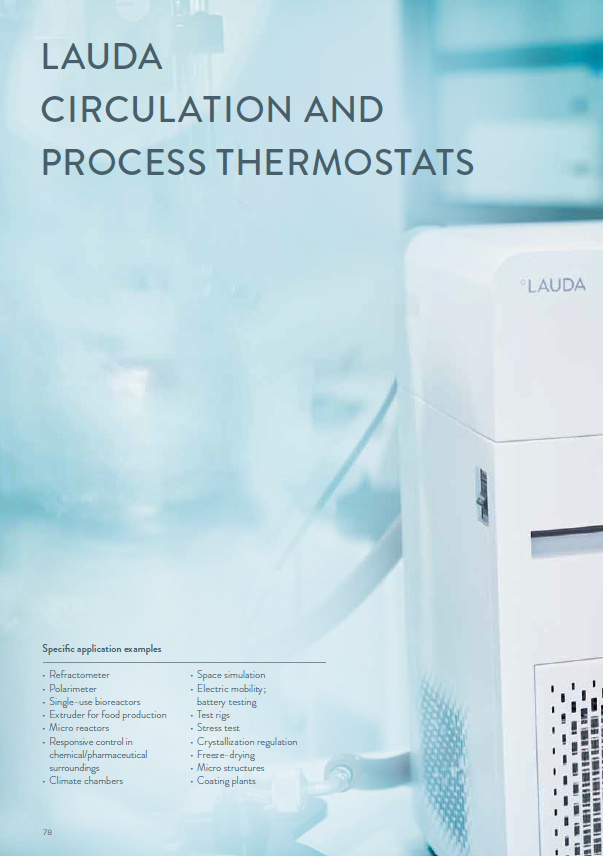 Working temperature min.
4 °C

Working temperature max.
80 °C

Temperature stability
0.1 ±K
The LAUDA LOOP can be used throughout the added value chain. This means is that it is a reliable partner – from goods-inwards inspection, via quality assurance and research through to sample preparation. You decide where the LAUDA LOOP is used. No matter where you need it: we always place great value on maximum safety. We have installed an RS 232-interface as standard. Communication is more than just a word for the LAUDA LOOP. For a safe operation, the LAUDA LOOP also provides functions such as an integrated button lock, an auto-start feature and a warning signal when exceeding temperature limits. Otherwise, the LAUDA LOOP is so quiet and vibrates so little that it is barely noticeable.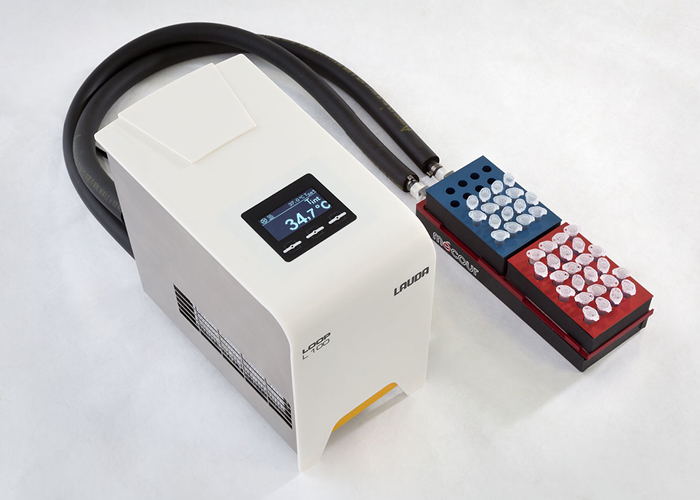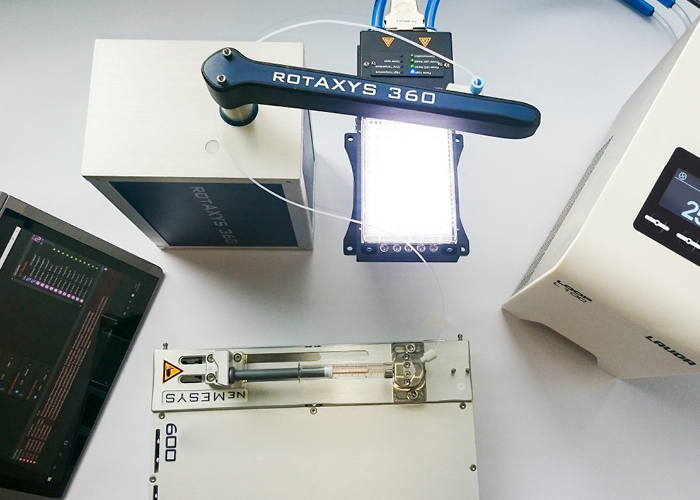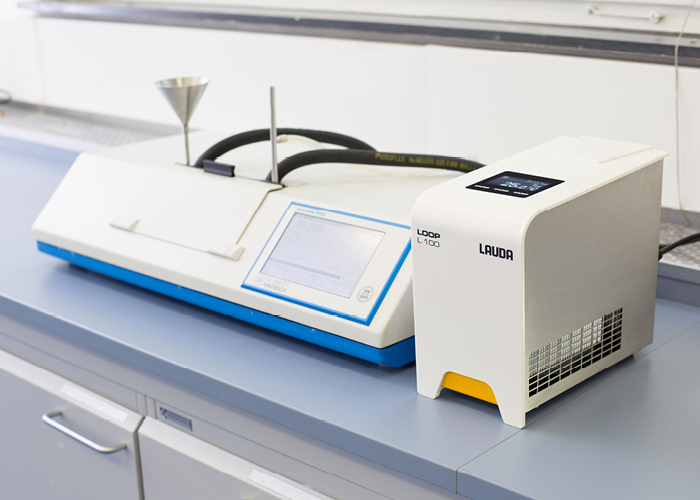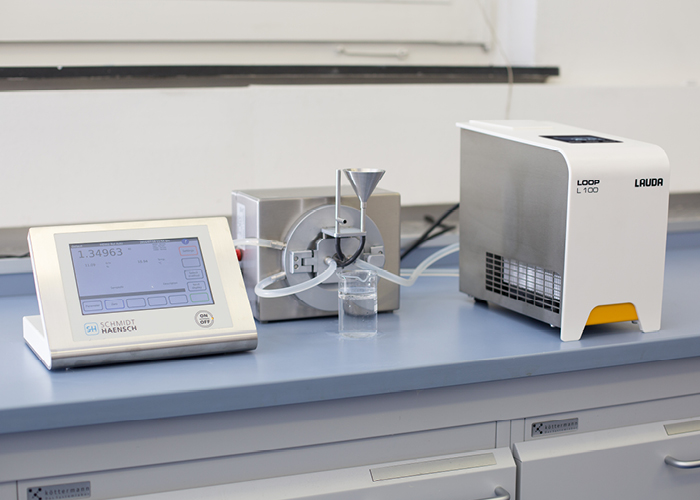 Compact circulation thermostats for applications at constant temperature from 4 to 80 °C
The LAUDA LOOP product line includes two thermo-electric circulation thermostats for external temperature control. The temperature control thermostating is by means of a current flow via a semiconductor relay. Both heating and cooling can be achieved simply by reversing the direction of current flow in a small space. The two air-cooled device types, L 100 and L 250, provide cooling capacities of 120 and 250 Watts, as well as a temperature range of 4 to 80 °C. The focus is on applications requiring constant temperature with a low power requirement. Both device types are exceptionally efficient in partial-load operation.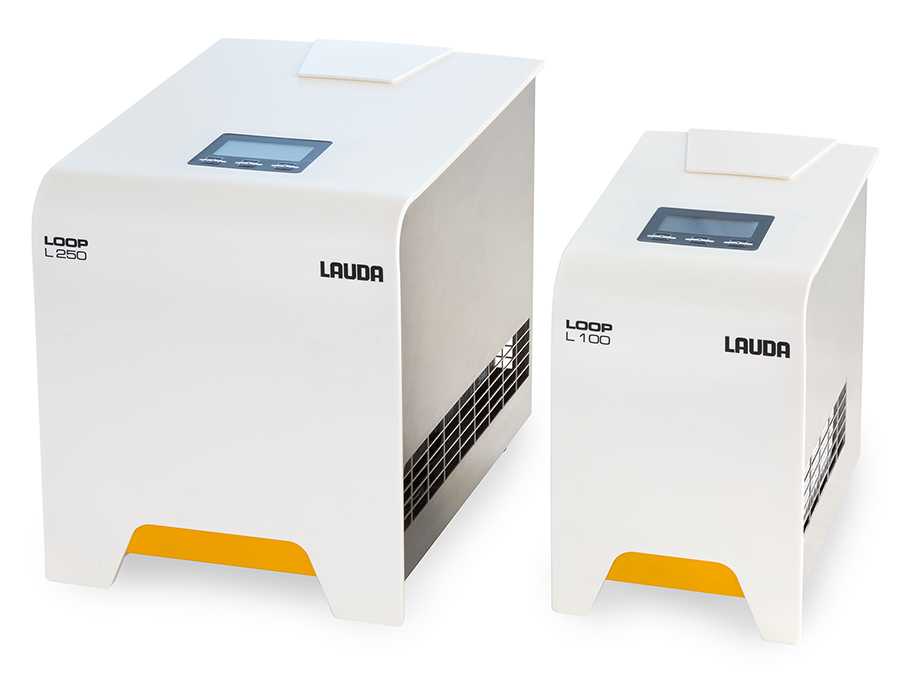 LAUDA LOOP Thermo-electric circulation thermostats
| | | |
| --- | --- | --- |
| Technical features | LOOP 100 | LOOP 250 |
| Select to compare: | | |
| Working temperature min. °C | 4 | 4 |
| | | |