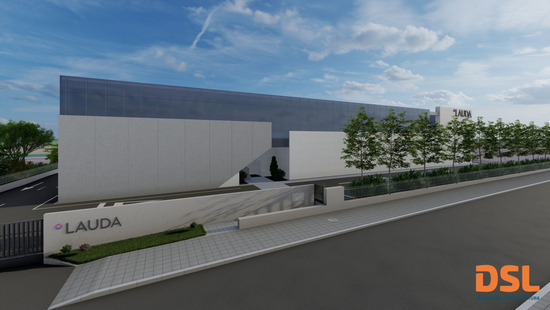 On 20 January 2011, i.e. 10 years ago, LAUDA, the world market leader in temperature control equipment and systems, acquired a plant for industrial circulation chillers in Terrassa near Barcelona, Spain. Owing to the continuous positive development of the Spanish subsidiary, the temperature control specialist was able to celebrate the laying of the foundation stone for a new production facility there at the beginning of the year. The new building of LAUDA's subsidiary LAUDA Ultracool, SL will more than double the production capacity of LAUDA circulation chillers to meet the growing global demand for energy-efficient temperature control solutions. For LAUDA, this is not only the first construction project abroad in the company's 65-year history but also the first complete new building "on a greenfield site". Around 4,000 m² of new production space and more than 850 m² of office space will be created on a 9,000 m² site in the direct vicinity of the existing company headquarters. The Spanish sales company LAUDA Ibérica Soluciones Técnicas will also move into the new building.
LAUDA will manufacture industrial circulation chillers on the new site. LAUDA is investing around 7 million euros in the new building in Spain. Completion is scheduled for the 4th quarter of 2021. Xavier Armengol, Managing Director of LAUDA Ultracool, is proud of the new building: "LAUDA Ultracool will have significantly more space to integrate research and development and production capacities on the new site." The LAUDA Group's investment in these turbulent times was also a strong signal of confidence in the subsidiary and its employees.
The laying of the foundation stone, which took place on 14 January 2021 under strict hygiene conditions without representatives of the parent company, was attended by the management of LAUDA Ultracool, together with the deputy mayor of Terrassa, Ms. Nuria Marín, and high-ranking representatives of the Chamber of Commerce, Industry and Services. A time capsule containing local newspapers, a LAUDA complete brochure, sketches of the building, euro coins and a document with employee signatures was placed in the foundation during the ceremony,.
"The new building in Terrassa in the direct vicinity of the megacity of Barcelona has great significance for us," said Dr. Marc Stricker, COO of LAUDA. He noted that the demand for energy-efficient industrial cooling was constantly increasing, e.g. in applications such as the cooling of laser cutting machines or industrial printing machines. "The new building and the possibilities it creates will enable us to meet this demand and continue to drive the future viability of industrial temperature control technology forward at the same time. In this respect, LAUDA Ultracool is playing a leading role in the development of the connection of industrial circulation chillers to the LAUDA Cloud." Constant temperature equipment such as the Ultracool industrial circulation chillers can be monitored and controlled on a decentralized basis via the LAUDA Cloud. Access to the historical data of every device in the LAUDA Cloud also enables predictive and preventive maintenance. President and CEO, Dr. Gunther Wobser added: "Our fantastic success story in Catalonia shows that LAUDA is not only growing steadily at home but all over the world. Of the total of five production sites, three are located abroad; in China and the USA in addition to Spain. This means we are close to customers in dynamic industries such as electromobility and bioproduction, which includes vaccine manufacturing."