Integral T
Process
Thermostats
Process thermostats for professional external thermostating across a wide temperature range from -30 up to 150 °C
Integral T process thermostats are particularly suited for external temperature control of reactors, mini plants and calorimeters. They provide broad temperature ranges and rapid temperature changes. The temperature of external applications can be controlled precisely with defined heating and cooling speeds. With the Integral T, internal circulation allows temperature control independently of external current resistances.
Process technology
Process engineering
Production
Research
Thermostating of stirrer tanks
Temperature control of reactors in chemistry, pharmacy or biotechnology
Thermal tests on test stands
Use in material tests

Working temperature min.
-30 °C

Working temperature max.
150 °C
Download a PDF of our Integral brochure:

LAUDA Integral Brochure (3.2 MB)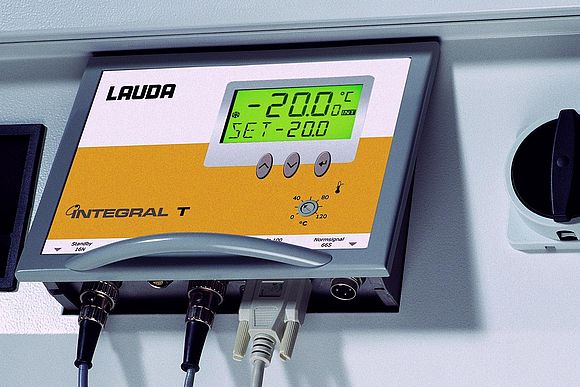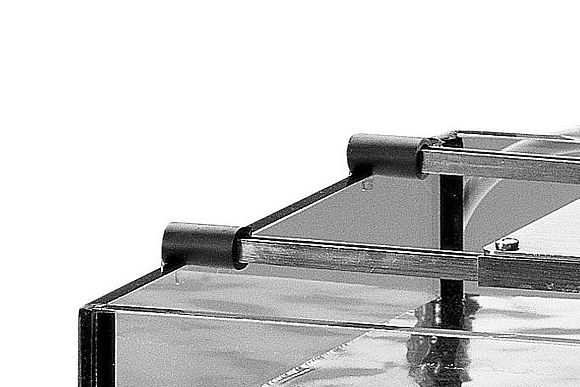 Small active internal volume – rapid temperature change and effective control of exothermic reactions
Bypass valve between inlet and outlet as a standard feature – pressure reducer to protect pressure sensitive applications and glass
Pivoting control unit with clear keypad and large display – easily accessible yet splash-water protected interfaces; easy and intuitive to operate
Specific equipment range with heating capacities up to 9 kW and cooling capacities up to 13 kW – application-specific temperature control with high heating and cooling speeds
Limited target temperature range from -30 to 150 °C – economical temperature control while eliminating unnecessary components and functions
Strong submersible pump, large expansion volume with overflow connection – suitable for large external circuits
Additional pump as a standard feature with T 4600 units and larger – full cooling capacity independent from external flow
Enhanced pump and low-pressure pump available as options – may be adapted to various applications
Compact design, all devices fitted with castors – saves valuable laboratory space
Remote control options available with use of accessory – flexible applications; mounting and sub-assembly option
Integral T Process thermostats up to 2.7 kW
Integral T process thermostats make rapid thermostating with powerful heating and cooling capacities combined with a small active internal volume possible. This minimises thermal drift and exothermic reactions are effectively controlled. Its compact construction is space-saving and makes the Integral T mobile.
The T control unit can simply be flipped open. The following interfaces are then accessible from below: connector for standby contact input, malfunction (alarm) contact output, analogue inputs and outputs, external Pt 100 and serial RS 232/RS 485 interface.
From the T 4600 units and larger, the Integral T is equipped with an additional pump allowing for more powerful circulation in the internal circuit. An adjustable bypass valve between the supply pipe and the bath of the external circuit allows for pressure reduction (e.g. in order to protect pressure-sensitive applications).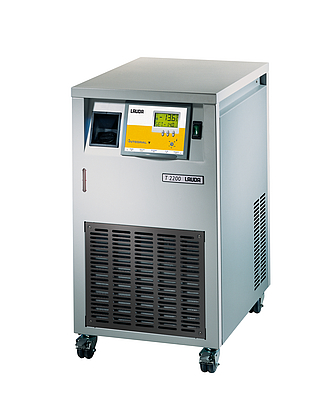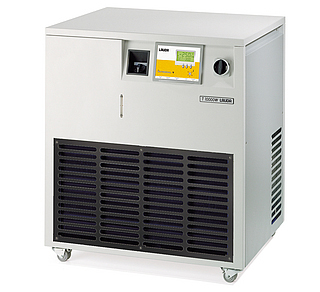 Integral T Process thermostats up to 13 kW
The more powerful T 4600 to T 10000 W Integral process thermostats have a second pump for circulation in addition to the powerful circulating pump via an internal plate-type heat exchanger and therefore provide efficient and space-saving cooling. This enables a cooling capacity of 4.6 to 13 kW at 20 °C with the smallest internal bath volume.
| | | | | | | | | | | |
| --- | --- | --- | --- | --- | --- | --- | --- | --- | --- | --- |
| Technical features | T 1200 | T 1200 W | T 2200 | T 2200 W | T 4600 | T 4600 W | T 7000 | T 7000 W | T 10000 | T 10000 W |
| Select to compare: | | | | | | | | | | |
| Working temperature min. °C | -25 | -25 | -25 | -25 | -30 | -30 | -30 | -30 | -30 | -30 |
| | | | | | | | | | | |
Working temperature range is equal to ACC range *Available from -30 up to 150 °C upon request
Reinforced polymer tubings
Special polymer tubings for high pressures
| | | | |
| --- | --- | --- | --- |
| Cat. No. | Description | Temp.-Range °C | max. pressure in bar |
| RKJ 031 | Polymer tube 1/2′" fiber-reinforced | -40…100 | 20 |
| RKJ 032 | Polymer tube 3/4″, fiber-reinforced | -40…100 | 20 |
| RKJ 033 | Polymer tube 1″, fiber-reinforced | -40…100 | 20 |
| RKJ 103 | Polymer tube 1/2″, with textile insert | -40…120 | 9 |
| RKJ 104 | Polymer tube 3/4″, with textile insert | -40…120 | 9 |
| RKJ 105 | Polymer tube 1″, with textile insert | -40…120 | 3 |
Insulated metal hoses
For T 1200…T 4600
| | | | | | | |
| --- | --- | --- | --- | --- | --- | --- |
| Cat. No. | Description | Length/cm | Thread | di (mm) | de (mm) | Temp.-Range °C |
| LZM 075 | MTK 100 | 100 | G 3/4 | 20 | 47 | -60…15 |
| LZM 076 | MTK 200 | 200 | G 3/4 | 20 | 47 | -60…15 |
For T 7000…T 10000
| | | | | | | |
| --- | --- | --- | --- | --- | --- | --- |
| Cat. No. | Description | Length/cm | Thread | di (mm) | de (mm) | Temp.-Range °C |
| LZM 078 | MTK 101 | 100 | G 1 1/4-G 1 | 25 | 50 | -60…150 |
| LZM 079 | MTK 201 | 200 | G 1 1/4-G 1 | 25 | 50 | -60…150 |
di = internal diameter, de = external diameter
Manifold connectors
For joining multiple external systems (suitable for water/glycol and silicone oil)
| | | | | |
| --- | --- | --- | --- | --- |
| Cat. No. | Description | Connection | Male thread | Temp.-Range °C |
| LWZ 084 | Four-port manifold | G 3/4″ | 4 x 3/4″ | -30…150 |
| LWZ 075 | Four-port manifold | G 3/4″ | 4 x 1/2″ | -30…150 |
| LWZ 085 | Four-port manifold | G 3/4″ | 4 x 10 mm | -30…150 |
| LWZ 082 | Four-port manifold | G 1 1/4″ | 4 x 3/4″ | -30…150 |
| | | | | | | | |
| --- | --- | --- | --- | --- | --- | --- | --- |
| Options | Cat.-No.: | T 1200 | T 1200 W* | T 2200 | T 2200 W* | T 4600 | T 4600 W* |
| Flow control instrument | LWZ 035 LWZ 036 | – | – | – | – | – | – |
| Low-pressure pump 1 bar, 30 L/min, 60-Hz version | LWZ 041-2 | | | | | – | – |
| High-power pump 5.5 bar, 40 L/min 60-Hz version | LWZ 031-2 LWZ 032-2 | – | – | – | – | – | – |
| | | | | | |
| --- | --- | --- | --- | --- | --- |
| Options | Cat.-No.: | T 7000 | T 7000 W* | T 10000 W* | T 10000 W* |
| Enlarged temperature range up to 150 °C | LWZ 029 | | | | |
| Flow control instrument | LWZ 035 LWZ 036 | – | – | – | – |
| Low-pressure pump 1 bar, 30 L/min, 60-Hz version | LWZ 041-2 | – | – | – | – |
| High-power pump 5.5 bar, 40 L/min 60-Hz version | LWZ 031-2 LWZ 032-2 | – – | – – | – – | – – |
* W = water-cooled version