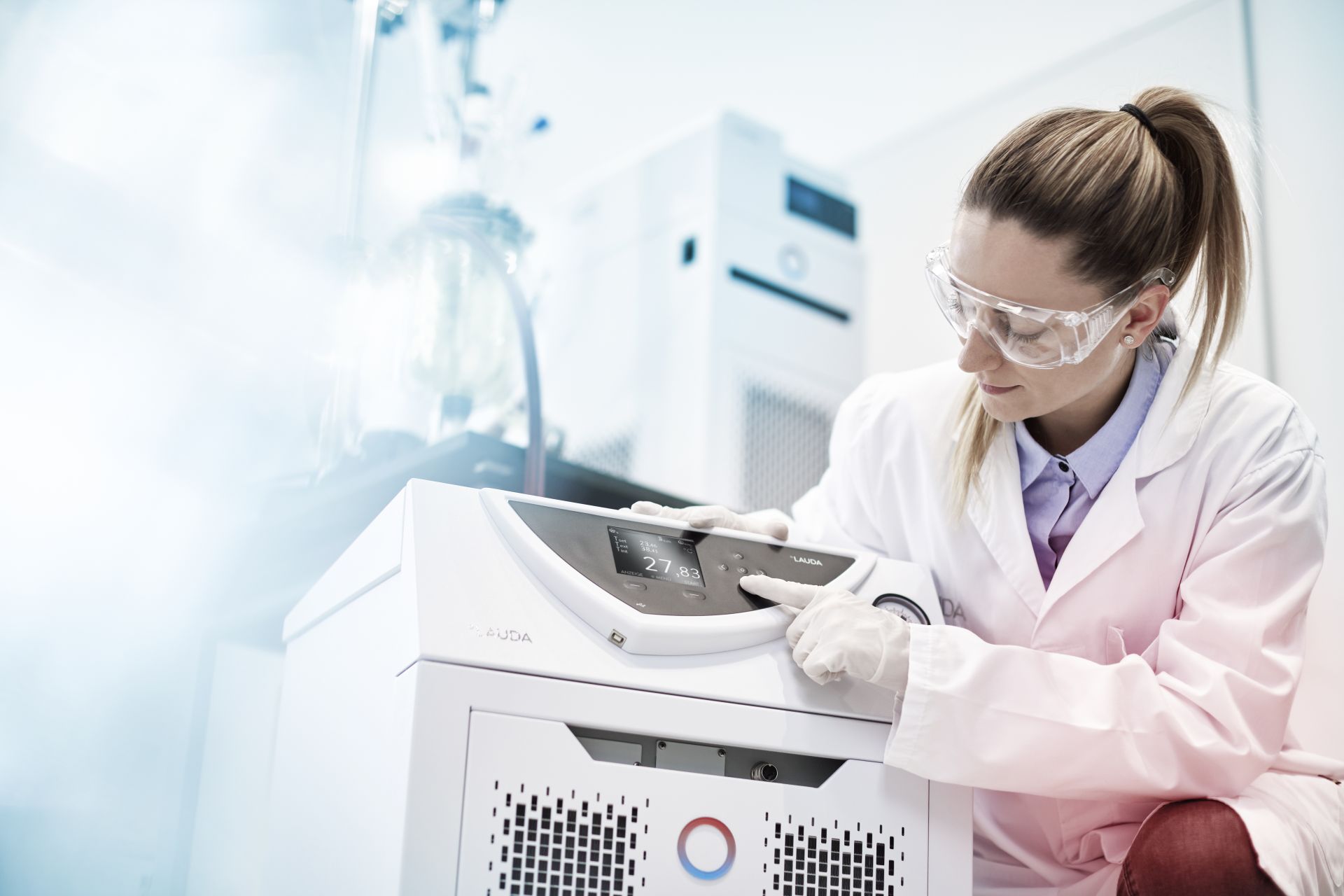 The corona virus is changing our daily life and work in a way never before seen. Since the restrictions in public life currently continue to be largely maintained and can only be eased gradually, the pressure on global medical research to develop drugs, therapies and ultimately a vaccine against this novel virus is increasing. LAUDA, as a manufacturer of temperature control units and systems as well as laboratory equipment, contributes to the solution in dealing with COVID-19. As a long-standing supplier of professional temperature control technology with over 60 years of experience, LAUDA equips laboratories all over the world with highly accurate and reliable temperature control and laboratory technology. In times of the Corona Pandemic, an even more important part of LAUDA's expertise is found in the area of pharmaceutical production of active ingredients.
LAUDA temperature control units support companies in the chemical and pharmaceutical industry, for example in the commercial production of pharmaceutically and biotechnologically produced active ingredients – this becomes important, for example, in the production of a vaccine against the coronavirus in large quantities. An important step in this process is the temperature control of bioreactors. Here, microorganisms are cultivated under the best possible conditions, for example in the range of body temperature to 37 to 38 °C, and then suddenly cooled down. "In the field of bioproduction, we have been supplying all well-known customers for years. Especially our Integral process thermostats and the Variocool recirculating coolers with additional heating have become a kind of gold standard in the temperature control of bioreactors," explains Dr. Gunther Wobser, President and CEO of LAUDA.
For the mass production of a possible vaccine or supporting medication, the industrial division of LAUDA develops heating and cooling lyses for scale-up processes. These include process cooling systems for so-called "Freeze & Thaw" processes, in which active ingredients are deep-frozen in large tanks and shipped for further processing. "We are currently receiving enquiries from major technology companies in the USA who are using our industrial cooling systems for research on COVID-19," says Dr. Marc Stricker, the COO responsible for this area.
In addition to production, the storage of active ingredients plays an important role in combating the pandemic. LAUDA cryogenic equipment is used, for example, in the pharmaceutical industry for the production of vaccines and medications in order to store samples safely and over a long period of time.
LAUDA also offers solutions in the area of preparatory steps: "In the area of laboratory technology, we are currently receiving an increasing number of enquiries about LAUDA-GFL stills", explains Dr. Gunther Wobser. The distillation apparatuses of the youngest LAUDA subsidiary are used for the production of purified water for the manufacture of disinfectants as well as for the supply of autoclaves for sterilisation/autoclaving, e.g. of surgical instruments, components or tubes of respirators. So-called overhead shakers also help in the fight against coronavirus – the shakers are used to produce solutions for test kits for the extraction of DNA and RNA from a variety of sample materials such as serum, plasma, oropharyngeal or nasopharyngeal swabs (mouth, throat or nose) or other respiratory samples.
However, LAUDA's contribution does not end with its products and services. The company has also offered its support to the Corona Task Force for Medical Technology of the state of Baden-Württemberg, as well as to the well-known medical technology company Dräger in the production of urgently required medical devices. LAUDA also helped Corona helpers of the Main-Tauber Kreis with donations in their solidarity against the consequences of CO-VID-19: "We take the virus very seriously in our own company as well and have initiated strict rules and safety measures to protect the health of our employees and at the same time ensure the availability of our temperature control units worldwide," says Dr. Gunther Wobser. "Fortunately, we can still guarantee this at present. All of our employees are working flat out, either on site or from their home offices, to deliver first-class quality under the given restrictions for those who are urgently dependent on our products in the fight against COVID-19," adds CFO Dr. Mario Englert. "We are proud to be able to contribute to the solution of the Corona crisis with our daily work".