Overview of accessories for constant temperature equipment
The operation of constant temperature equipment often requires the use of accessory components. Only with the appropriate testing stands, connecting parts, reducers, various hose connections, distributors or interface modules, etc., can the applications be successfully implemented.

Solenoid valve for cooling water control

Proline shut down valve/reverse flow protection

Level controller

Proline automatic filling device

Atherman illuminators

Alpha accessories

Additional pumps
Interface modules, remote controls

Operation and measurement in Ex-zones
Connecting plugs

Platinum resistance thermometers in stainless steel tube

Connecting cables

Stainless steel bath covers

Stainless steel gable covers

Cover plates for clear-view thermostats

Polycarbonate racks up to 100 °C

Polypropylene test tube racks, up to 95 °C

Stainless steel racks up to 100 °C

Stainless steel racks up to 300 °C

Stainless steel test tube racks up to 150 °C

Racks for calibration thermostats

Platforms and adjustable platforms

Accessories for notch bending tests

Polymer tubing

Insulation tubing

Metal tubes (stainless steel flexible tube)
Equipment trolley and castor base

Connectors

Screw caps

Manifold for temperature range -10…100 °C, for use with water/glycol

Manifold for temperature range -30…150 °C, for use with silicone oil/water/glycol

Integral XT bypass

Adapters

Double connectors
Match your LAUDA equipment exactly; developed, constructed or programmed specifically for it
Tested for practicality – your LAUDA contact person knows what works and what is appropriate
Robust – LAUDA accessories are designed for durability
For additional information, download our Accessories Catalog:

LAUDA Accessories Catalog (3.9 MB)
Correct selection of the heat transfer liquid is of crucial importance for the safe and reliable operation of your thermostats. It must be suitable for the temperature range. In addition you should always use suitable tubing. More details can be found in our special brochure "Heat transfer liquids". Additional accessories are listed in the accessories brochure. Safety data sheets with the physical properties can be found on our website at: www.lauda.de.
Thanks to our decades of experience and continual tests we can offer you optimum heat transfer liquids for all LAUDA thermostats. Heat transfer liquids are available in three drum sizes: 5, 10 and 20 liters. When calculating the amount to be ordered, please consider the volume of the thermostat and the external circulation in addition to the bath volume.
In the table below, you can see precisely which heat transfer liquids are suitable for which temperature ranges. Please note that these details always relate to the temperature range of the heat transfer liquid, which is the limiting factor.
Highly accurate thermostating, even at extreme temperatures
Durability
Simple and safe handling
Reliability, suitable for long-term operation
Optimal for long thermostat life
Best possible compatibility with the environment
Safety data sheets available upon request
For additional information, download our Heat Transfer Liquids Catalog:

LAUDA Heat Transfer Liquids Catalog (2.2 MB)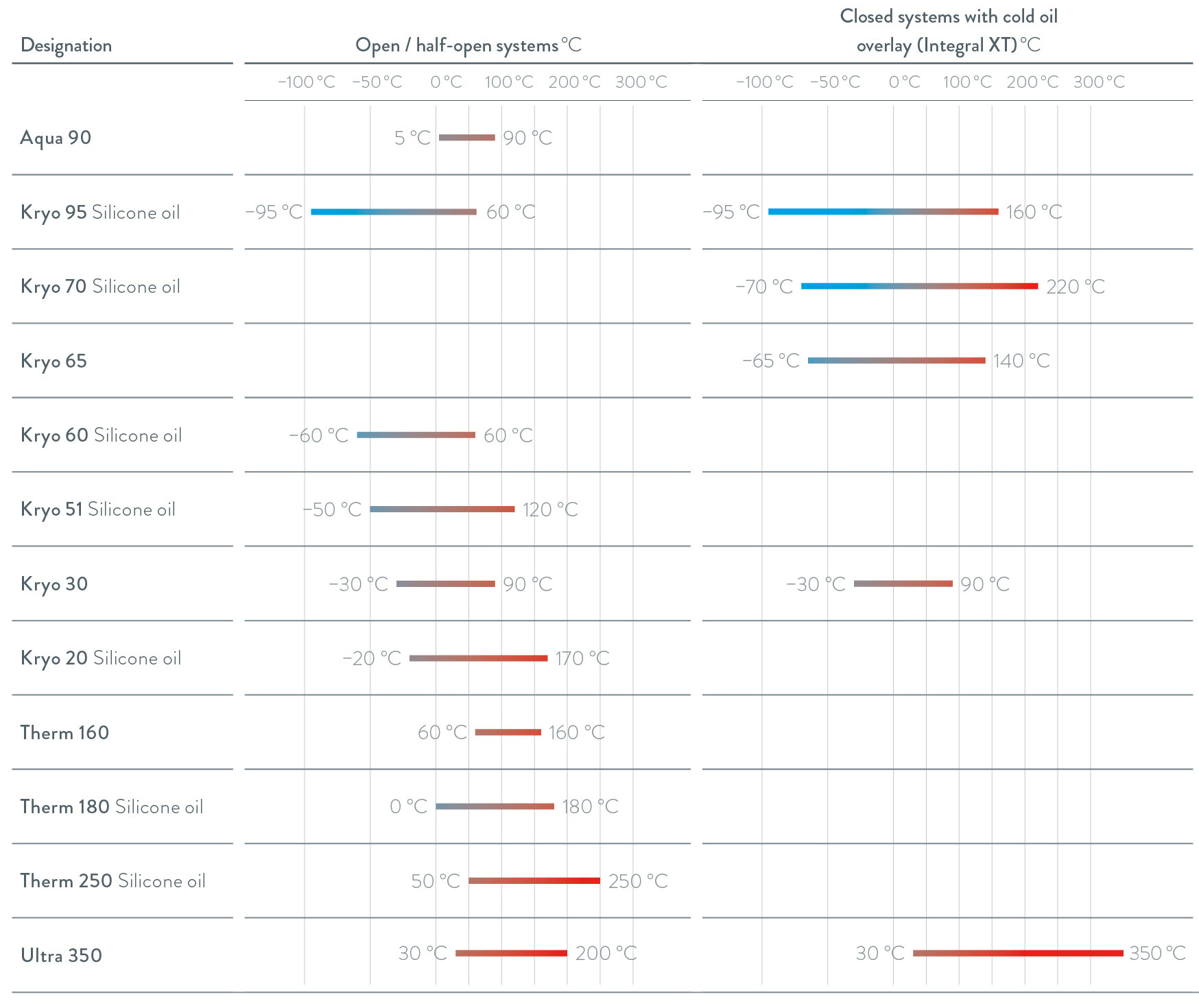 All LAUDA ECO Silver and ECO Gold thermostats, all Ecoline Staredition thermostats with control heads E 200 and E 300, all Proline thermostats and Proline Kryomats, all Ultra-thermostats, all circulation chillers WK/WKL with interface and all LAUDA Integral process thermostats can be controlled from any PC with the LAUDA Wintherm Plus software. Requirements of the PC: at least 64 MB RAM, serial interface.
Remotely setting temperature set-point and liveobservance of actual bath temperature
Monitoring of external temperature values
Online graphic display of all values with a readily selectable time window to reduce the amount of data or to increase resolution
Temperature program editor to create and archive temperature profiles and ramps
Complete control of all thermostat functions such as control parameters, temperature range and pump capacity*
Each measuring graph can be imported as an ASCII file or D-Base database into spreadsheet programs such as Microsoft Excel.
A separate read and display software makes it possible to view and print out existing graphs in parallel and independently of the controller sections.
Read-out of the data logger for devices with remote control Command or ECO Gold thermostats.
Every measuring curve can be imported directly as bitmap or metafile into all graphic programs and Microsoft Word.
Simultaneous control of up to 64 thermostats
Up to 8 serial interfaces of the PC can be addressed as RS 232 or RS 485.
Automatic recognition of connected thermostats
Operating languages: German and English
Supported operation systems: Windows XP, Windows VISTA, Windows 7
* Pump capacity not controllable with Wintherm Plus on LAUDA USH, WK/WKL and Integral T