Integral XT
Process
Thermostats
Extremely broad temperature range and rapid temperature changes:
LAUDA Integral XT process thermostats allow extremely rapid temperature changes, resulting from the small, internal, thermally active heat transfer medium. The instruments work according to the highly efficient flow principle with a broad working temperature range. The process thermostats are used where rapid temperature changes or high refrigeration and heating performance are required.
Temperature control of stirrer tanks
Temperature control of reactors in chemistry, pharmacy or biotechnology
Thermal tests on test stands
Use in material tests

Working temperature min.
-90 °C

Working temperature max.
320 °C
Download a PDF of our Integral XT brochure:
LAUDA Integral XT Brochure (3.8 MB)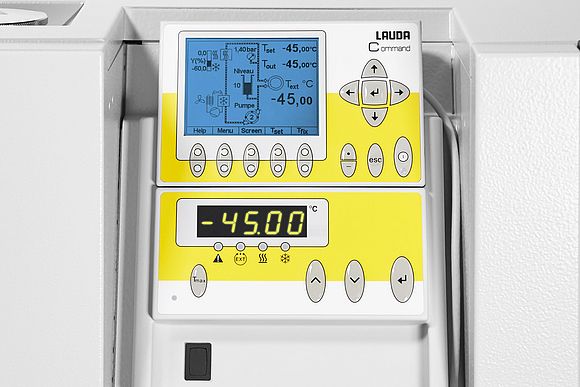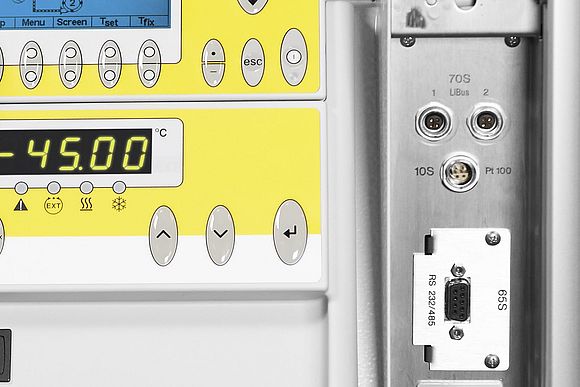 Removable Command control unit with graphic LCD – easy and intuitive operation, quick setting changes
Automatic adjustment of the control parameters via integrated software for adaptive control – saves time-consuming calculation of control parameters
Eight-level Vario pump adjustment – application-specific adaptation of flow and pressure to the application
Infinitely variable control of pump pressure – pressure reduction to protect pressure sensitive applications
Magnetically coupled pump – no sealing problems at the pump shaft across the entire temperature range
Two slots for interface modules available – high flexibility for the user for the broadest range of system integrations
RS 232/485 interface included
Recessed filler nozzle on the top of the equipment – simple filling with heat transfer liquid from the top of the unit
Practical drain taps on the sides of the equipment – quick and complete drainage of the heat transfer liquid from the system
Software-based/controlled filling and draining – professional and safe start-up
Automatic degassing after filling process – temperature control of external application without gas introduction
SelfCheck assistant shows equipment status clearly on the display – high level of operating safety and constant monitoring of all equipment functions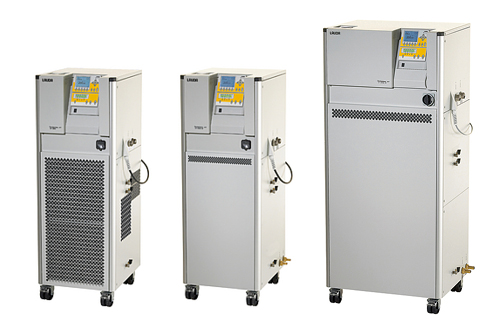 Integral XT Air-cooled process thermostats down to -80 °C
The LAUDA Integral XT process thermostats are ideally designed for the requirements of rapid and precise temperature control of an external application in process plant and pilot plant environments. The air-cooled process thermostats offer high performance in a small space while still providing functionality across a wide temperature range. Using the LAUDA Kryo 55 heat transfer liquid, temperatures from -50 up to 220 °C can be achieved without changing the heat transfer liquid. The special high-temperature version enables process temperatures up to 300 °C. This makes it ideal for reactor thermostating in chemical or pharmaceutical processes. The large expansion vessel in the LAUDA Integral XT absorbs temperature-induced changes in volume, thereby ensuring smooth operation even in large connected external systems.
Integral XT Water-cooled process thermostats down to -50 °C
Independent of variations in ambient temperature, Integral XT watercooled process thermostats achieve constantly high cooling performance. The temperature of the ambient air remains virtually unchanged thanks to the dissipation of the process heat through the cooling water. This is a particular advantage in setups similar to production as in process plants or in the mini-plant, where work is conducted under the most strained conditions. Water-cooled Integral XT systems are also the perfect choice for airconditioned spaces, since they do not tax or place an unnecessary burden on air-conditioning systems.
Integral XT Water-cooled process thermostats down to -90 °C
The new LAUDA Integral XT 1590 W and XT 490 W process thermostats stand out for their high cooling capacities at very low temperatures. Thanks to the two-stage cascade system, the thermostats are particularly suited for applications in the ultra-low range down to -90 °C. The water-cooled devices achieve cooling capacities of up to 18.5 kW and maximum heating capacities of 10.4 kW. The Integral XT 1850 W is also available with a heating capacity of 16.0 kW.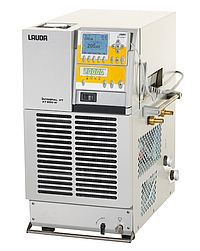 Integral XT High-temperature thermostats up to 320 °C
The LAUDA Integral XT high-temperature thermostats allow a maximum working temperature of 320 °C. The process thermostats are operated using the Command remote control, which is already utilized in the other XT models. The powerful pump can be regulated at eight different levels, supplying a maximum pressure of 2.9 bar and a flow rate of up to 45 L/min. The two models, XT 4 H and XT 4 HW, provide heating power of 3.5 kW. The XT 8 H and the XT 8 HW are equipped with an 8.0 kW heating system. With the XT 4 HW and the XT 8 HW models, water-generated counter-cooling allows for quick cool-down across the entire temperature range. Typical applications of the thermostats include distillation at high tempera­tures and control of high-temperature chemical syntheses.
Integral XT Process Thermostats
| | | | | | | | | | | | | |
| --- | --- | --- | --- | --- | --- | --- | --- | --- | --- | --- | --- | --- |
| Technical features | XT 150 | XT 250 W | XT 350 W | XT 550 | XT 550 W | XT 750 | XT 950 W | XT 1850 W | XT 280 | XT 280 W | XT 490 W | XT 1590 W |
| Select to compare: | | | | | | | | | | | | |
| Working temperature min. °C | -45 | -45 | -50 | -50 | -50 | -50 | -50 | -50 | -80 | -80 | -90 | -90 |
| | | | | | | | | | | | | |
Integral XT High-temperature Thermostats
| | | | | |
| --- | --- | --- | --- | --- |
| Technical features | XT 4 H | XT 4 HW | XT 8 H | XT 8 HW |
| Select to compare: | | | | |
| Working temperature min. °C | 80 | 30 | 80 | 30 |
| | | | | |
Slot-in and interface modules
| | | |
| --- | --- | --- |
| Cat. No. | Description | Description |
| LRZ 912 | Analogue module | 2 x In, 2 x Out, 0(4)…20 mA or 0…10 V |
| LRZ 913 | RS 232/485 interface | electrically isolated, 9-pin SUB-D |
| LRZ 914 | Contact module NAMUR | 1 x In, 1 x Out, NE 28, 2 DIN sockets |
| LRZ 915 | Contact module SUB-D | 3 x In, 3 x Out, 15-pin SUB-D |
| LRZ 917 | Profibus interface | electrically isolated, 9-pin SUB-D |
High-pressure pump
Cat. No.
Description
Description
LZW 077-1
High-pressure pump
Suitable for XT 150 to XT 950 W (230 V; 50 Hz),
resulting max. pump pressure 5.8 bar
Metal hoses M30 x 1.5 I
| | | | |
| --- | --- | --- | --- |
| Cat. No. | Description | Length/cm | Temp. Range °C |
| LZM 081 | MXC 100S | 100 | -50…300 |
| LZM 082 | MXC 200S | 200 | -50…300 |
| LZM 083 | MXC 300S | 300 | -50…300 |
(I = inner thread)
Metal hoses M38 x 1.5 I
| | | | |
| --- | --- | --- | --- |
| Cat. No. | Description | Length/cm | Temp. Range °C |
| LZM 084 | MX2C 100S | 100 | -50…300 |
| LZM 085 | MX2C 200S | 200 | -50…300 |
| LZM 086 | MX2C 300S | 300 | -50…300 |
(I = inner thread)
Additional adapters and connectors
| | | |
| --- | --- | --- |
| Cat. No. | Description | Description |
| HKA 152 | Reducer | M30 x 1.5 O on M16 x 1 I |
| UD 660 | Reducer | M30 x 1.5 I on M16 x 1 O |
| HKA 164 | Reducer | M38 x 1.5 O on M30 x 1.5 I |
| EOV 194 | Screw-in stud | M30 x 1.5 O on G 3/4″ A |
| EOV 207 | Screw-in stud | M30 x 1.5 O on NPT 3/4″ A |
| EOV 208 | Double connectors | M30 x 1.5 O |
| EOV 206 | Screw-in stud | M30 x 1.5 O on G 1″ O |
| HKA 160 | Adapter | M30 x 1.5 O on spherical line RD = 28 |
| HKA 163 | Flange adapter | M38 x 1.5 O on DIN 2633/DN40 |
| HKA 165 | Angle connector | M38 x 1.5 I on M38 x 1.5 A |
| HKA 153 | Angle connector | M30 x 1.5 I on M30 x 1.5 A |
(O = outer thread, I = inner thread)
Nipples
| | | |
| --- | --- | --- |
| Cat. No. | Description | Description |
| HKA 161 | Nipple | 1/2″ Nipples on spherical line for M30 x 1.5 |
| HKA 162 | Nipple | 3/4″ Nipples on spherical line for M30 x 1.5 |
| HKA 196 | Screw cap | M30 x 1.5 |
Miscellaneous
| | | |
| --- | --- | --- |
| Cat. No. | Description | Description |
| HKA 161 | Bypass | M30 x 1.5 I/O Temperature range: -40…350 °C |
| HKA 162 | Ball valve | M30 x 1.5 I on M30 x 1.5 O Temperature range: -30 to 180°C |
| HKA 196 | Ball valve | M38 x 1.5 I on M38 x 1.5 O Temperature range: -30…180 °C |
(O = outer thread, I = inner thread)